Yay no drinks on me! Post is on time. & Im so.... hungry so I gotta jet =)
At Verve. lol @ the guy behind
Ha ha My friend in black Fola Tripped. & last time I fell down these stairs!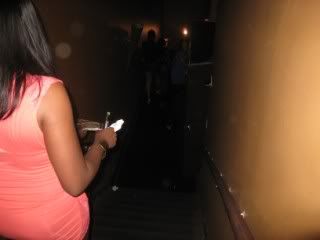 Went to Uptown lounge on Friday for the Luda event, tell me why I got the 1am, and the line was hella long?? So we drove to Atlantic Station which was empty & sucked. Wow so many fine guys at Tongue & Groove ( Monday Labor day). Was gonna go to Velvet Room on Sunday like I planned but after I left my friend late night BBQ, Fola called & found out they were charging OMG $40?? for females, people have lost their darn minds!! Shoo they act like I got a real job or some sugar papi! Heck no! so we went to Verve free before 11.30. Calls it cheap, I call it being smart, trust me the amount of females in ATL is ridiculous, 3:1 , then so many gay or down low guys, so knock that down, then all the taken guys. Were talking 5:1 or 7:1, and we haven't even specified if he got a job or is cute.

@ Justin's Poolside BBQ which started insanely late. so had to leave early aka 11pm.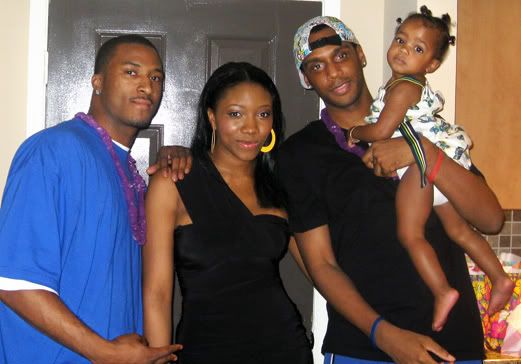 Omg she's the prettiest baby ever.
Before heading to the pool, getting more burgers, buns etc
Basically I'm more likely to meet "Mr I'm-not-ready-for-a-relationship-cause-im-greedy", than "Mr-Right-now-I'll-date-only-you." ATL!! Am I lying???? Well we got to Verve late, so yay for Tiwaworks (fab atl party promoter) I didn't pay, they were also charging $40. Great party! 3 floors, no Dj Cowboy on any floor [plays so much old school like "time for the percolator" well not that bad, but bad enough!]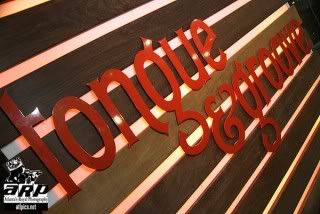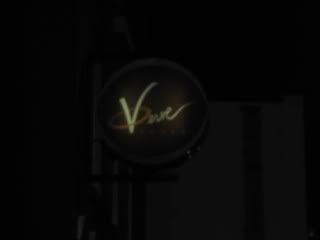 Posing like the goof i am in the
ladies bathroom
. & met the funniest
a bit
Tipsy Lady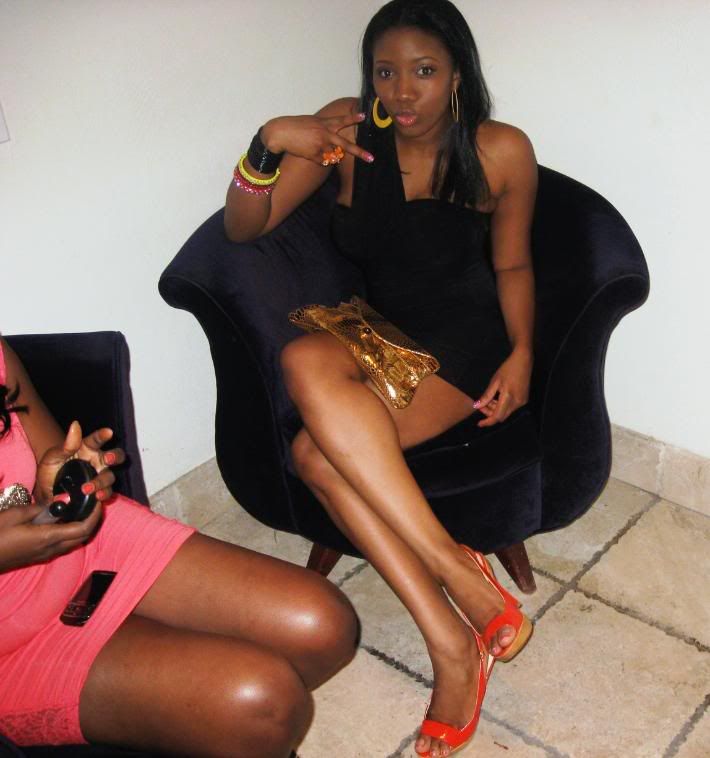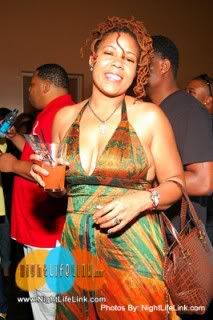 Fola on the
rooftop
@ Verve & middle floor
I have to drag my ass to the gym. lol i look like i have hips & a butt. ha ha ha. Beyonce take that!!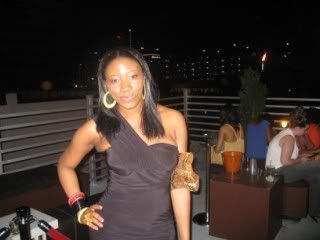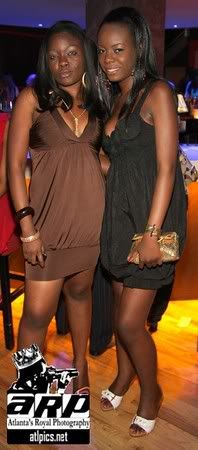 GIST CRAZINESS
Then Went to Tongue & Groove. Apparently Lyfe Jennings was there, I had no idea, I was too busy trying to figure out 1) why I looked fat in some picture [red dress, not in this post!] 2) why this old 40ish white or asian or Eurasian guy was hitting on me out of all ladies. But he was so…. Sweet, then!!! He's friend came, and omg, I almost lost it. [u see the guy on the right!?!]

Him: blah blah blah, he's from the Dominican Republic
Me (thinking): hmm I thought all DR guys were cute?? Wtf, oh well international guys are nice
Him: Can I buy you a drink
Me: No thanks, I'm driving
Him: But I want to drink with you
Me: No thanks, I'm driving, but you can buy my friends one
Him: You buy your friends a drink, I want to buy You a drink 0_o
Me: No thanks I'm driving, so you can buy them one
Him: No you….blah blah blah
Me: [thinking: OMG fuck off & he's being a tiny bit embarrassingly loud] well I didn't bring cash
Him: go get you cash & buy your friends a drink, and I'll buy you water
Me: No thanks, you don't have to buy them, I just said offer them! But Nevermind, bye.
Then here's the funny part: he starts talking to some other girl, and his friend that im not sure of his race comes over & says "must be hard being so popular," I laugh politely cause I think he's talking about me. But no, he's talking about his freaking Dominican friend that's talking to a different girl beside me, ha ha.
Anyways these are random pictures of
decent looking
guys the photographer took. Like i said before my friends were banned me from taking personal pictures of the guys. so their egos dont get big.
red
arrows: bartender
blue
circle: some trifling guy, called my friend to talk to her, then started hitting on a diff girl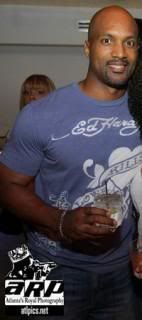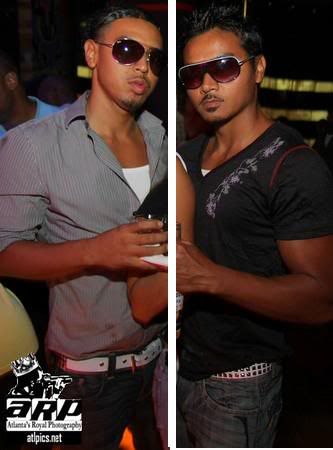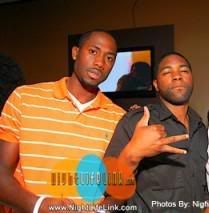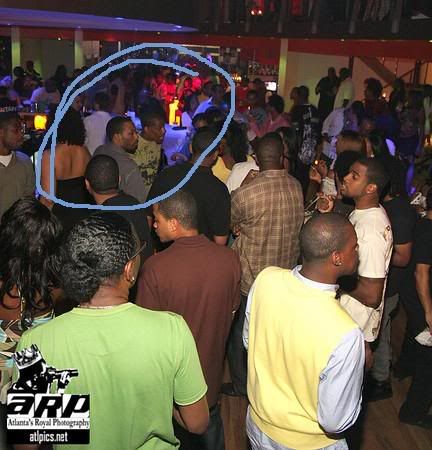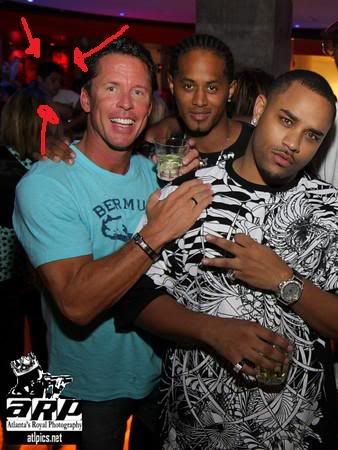 [ha ha this post is long enough, so feel free to go watch Gossip Girl, go on your date, then come back and read it all!!!] Sasha I think people will passout from Pic overload if i put more!!!


NEW WORD: "suspect"
-for atlanta, with many down lown & gay brothers, my cousin & I, well mostly her, says "Suspect!!!" everytime we see a guy that is supposedly straight, but we think he's a bit off. so we suspect him. omg they were so.... many @ T& G, both straight, hot, gay, suspect, etc.
So next post: People keep asking "Why are you single?" "How come you've never had a boyfriend?" And other similar lines, so trust me I have my answer ;) and some sort of form. Hmm wonder what that is. Guess u'll have to stop by & check. [it'll be way shorter!]