well I have my picture on my cell phone Home Screen. & a bunch of guy friends who see it, think It's vain. I thought everyone had a picture (of themselves, looking hot) on their cell phone. If not you should do it, so on a bad day, U could just look down, and feel great! or just to be reminded that you are hot, or could look hot.
I even wanted to put my picture on my friends cellphone, but we decided his girlfriend might not find it funny. (whenever my mum visits, and leaves her cellphone, someone takes it, takes a picture of themselves & makes it her homescreen, it's so funny!)
A bunch of Bombchells from facebook are gonna call in to the site, to help us with this dilemma, Let's see what they thought.
PickUp or Hangup
"Why have a camera fone if you cant have your flick in it??"
1. Guchy Da Bomb/ Lynda - My crazy friend that I love so much : her twitter
"I've never thought of it as being vain but of all the pictures in my phone that's the picture i happen to like best at the moment."
2. Temi- One of the coolest girls I've met & love in the MD/DC, that I'll party & shop with any day.
"I dont get to see myself at all during the day, because I am me...sometimes I might not have a mirror to check my face, so I will just use the background on my cell phone...A picture of Me!!!"
3. Macon - Total Hottie & actor here in Atlanta
"what?!?! u mean not everybody does it. i thought it comes in the manual. "MUST TAKE PIC OF URSELF!!" hahaha...no not vain at all."
4. Katrina M - who is super gorgeous, it's insane, you need to check out her blog
(here)
"Umm, am speechless. lol. I just think its weird. You can have a pic of gardens, your fav anime, or something there. lol. Its plain boring to me to have my pic on my phone.. lol"
5. King Ola - What doesn't he do? he's a photographer, DJ, web designer, lets just call him a modern day renaissance man
(blog)
not.......at all..........but i think looking in the mirror to long is. my sister is so guilty of that she can stand there for hours and in btw do a mini fashion show........lol
6. Precious - oh my gosh, isn't that like the loveliest name :) went to boarding school with her too, & she read my blog, so big shoutouts!
"When u look like me...its only right to have my picture on my phone...I mean, if I'm having a bad day and I just slide my fone open and I see dat sexy chica...voila! I feel better. So, yeah I flaunt it. And yeah, its vain, but who cares!!! Lol!"
7. Nini - known this babe since I was primary school & love her so much!!! & now she's about to be a Dr.
-McHottie! (my grey's anatomy fans get it)
I think its kinda Vain.......and being Vain goes hand in hand with being conceited.......Most times if you're conceited that means you believe in yourself......If you don't believe in yourself WHO WILL?? (Damn Im good....Vanity)
8. Fammy - this is one of my fav cousins ever!! He's so... naughty, but super adorable so you have to love him!
(NY ladies watch out)
7. Bombchell- that's me!! the "vain" geek behind the blog :) & Of course I have my picture on my homescreen, u could have it too...!!!
so I added a picture below of exactly what my cell looks like. (my blackberry bold theme is a free
fafi application
one by
SixTenWebdesign
)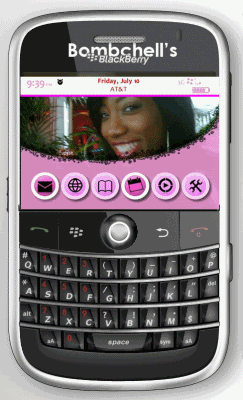 Great Idea: if you have a bossy boss, that always calls you, or parent, or negative friend, instead of having their picture show up when they call, put a sweet one of you to cheer you up, or a bunny.. or boris kodjoe, or devon aoki
..
or whatever makes u happy)
NOW A BIG BIG thanks
to everyone who wrote on my original facebook note, will comment on this blog post & those who just read. I'm so grateful to those who participated, sent in the pictures, u ladies & gentlemen are truly gorgeous, and have a lovely sense of humor, & I'm so grateful that we're friends, and more that you participated
(
(
(so huge sloppy kisses for you)
)
)
thanks again.
(sometimes I couldn't decide on a pic, so these are the ones I didnt use
here
)
PSD FILES CREDIT: Smartphone by Nurutheone, Aero Avatar, Blackberry bold
So who or what's on you're phone?
click "comment" to read or post one :) have a good week
off to study & hope u enjoyed it.
xoxo Bombchell